EXHIBITION SPOTLIGHT: Anne Frank
A Virtual Zoom Event
March 9, 2022
1pm – 2pm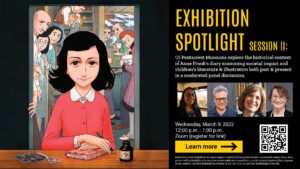 The University of Iowa Pentacrest Museums explores current exhibition Let Me Be Myself: The Life Story of Anne Frank through the Exhibition Spotlight program series in a special two-part virtual panel event. Pentacrest Museums Director of Education & Engagement, Carolina Kaufman will moderate discussion with panelists on a variety of related topics to share the story and legacy of Anne Frank and her impact on society. These sessions will illuminate how Frank's story has inspired new approaches in the teaching of difficult topics and themes in accessible and relevant ways that learners of all ages can identify with including exhibitions, workshops, seminars, children's literature, and more.
SESSION 1 YouTube
Session II explores a wider lens on the historical context of Anne Frank's diary and diary writing as a whole, examining societal impact and children's literature both past and present. Discussions will feature David Polonsky and his award winning graphic illustration work for the Graphic Adaptation of Diary of Anne Frank and Nancy Churnin, an award-winning Children's Author. Dr. Waltraud Maierhofer will provide introduction to the history of diaries in literature followed by a moderated conversation with Polonsky and Churnin who took inspiration from Anne Franks life and diary in their own literary and illustrative work, extrapolating themes of identity, coming of age, expression, mental health, racism, prejudice, resilience, and social justice.
REGISTER for free to receive webinar link access HERE.
Moderator: Carolina Kaufman – University of Iowa Pentacrest Museums Director of Education and Engagement
Session I Panelists: 
Nancy Churnin, Children's Book Author: Nancy Churnin, the author of Martin & Anne, the Kindred Spirits of Dr. Martin Luther King, Jr. and Anne Frank, is the award-winning author of ten picture books about people who persevered to achieve their dreams and make the world a better place. Martin & Anne is a Louisiana Young Readers Choice Award nominee, on NYC's Civics for All list and a Notable Book for a Global Society. Additional awards for her books include: Junior Library Guild, starred reviews, National Council for the Social Studies Notables, multiple Silver Eureka Awards, multiple inclusions on A Mighty Girl list, Sydney Taylor Notable, Towner Award nominee, Sakura Medal finalist, Notable Book for a Global Society, Anne Izard Storytellers Choice Award and the South Asia Book Award. A native New Yorker, Nancy lives in North Texas with her family, which includes a dog named Dog and two cantankerous cats. 
Waltraud Maierhofer, Ph.D., Professor, German, Global Health Studies:
Dr. Waltraud Maierhofer is a professor of German and has recently joined the faculty in the Global Health Studies Program at the University of Iowa.  She loves to get students excited about other cultures, learn what we have in common and what differentiates us, and explore human nature through narratives of human striving and accomplishments in its diverse forms. Her research and teaching interests are based in German literature and culture from the eighteenth century to the present. She is especially interested in representations of health and Human Rights issues (contraception, abortion, disabilities), in intersections of historiography and fiction, ego-documents and biography, but also book illustrations and text–image relations. She has edited several historical documents and works of fiction in English translation including The Child Witches of Lucerne and Buchau (forthcoming with Lehigh University Press). Prof. Maierhofer has been at the UI since 1990 and is the principal awardee of the Anne Frank Initiative 2022 with the with coming Provost's Global Forum. 
---
Guests may register for Session I and Session II of this series for free to receive webinar link access.
Let Me Be Myself: The Life Story of Anne Frank, now on display at the Old Capitol Museum, connects Anne Frank's life story with the present and makes the fate of the millions of victims of the persecution of the Jews during the Second World War personal and palpable.
The exhibition is presented as the Provost's Global Forum (2021), organized by University of Iowa International Programs in partnership with a variety of campus faculty & interdepartmental support.
Exhibition Spotlight is an ongoing program series dedicated to educational illumination of an aspect of current exhibits featured at the University of Iowa Pentacrest Museums. A variety of webinars, interviews, panel discussions, special performances,  artist profiles, behind-the-scenes process examinations, and more, this series will take a closer look at the changing exhibits we offer.
Individuals with disabilities are encouraged to attend all University of Iowa–sponsored events. If you are a person with a disability who requires a reasonable accommodation in order to participate in this program, please contact Carolina Kaufman in advance at 319-467-3130 or [email protected].