Hadassah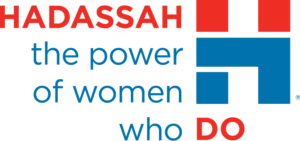 The Cedar Rapids/Iowa City Chapter of Hadassah sponsors various events, such as our Tu B'Shvat Seder and the monthly book club at Temple Judah. Our book club meets approximately every 6 weeks. Books are chosen by those attending, with the only requirement being that there is some Jewish connection. Everyone is welcome to attend, even if you have not read the book. Hadassah membership is not required. Check our Events Calendar for the next book club event!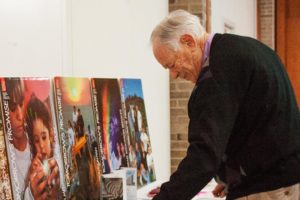 You can support  Hadassah by becoming a member of the Cedar Rapids/Iowa City Chapter, by attending an event, or by donating. When you support Hadassah's mission, it makes a difference in the lives of those around the world and in your own community.
---

Upcoming Hadassah Events for the
Cedar Rapids/Iowa City Chapter
Book Group & Coffee
September 23, 2020, 7:00 pm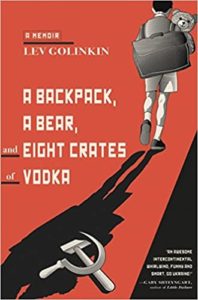 A Backpack, a Bear and Eight Crates of Vodka by Lev Golinkin
Everyone is welcome.
A compelling story of two intertwined journeys: a Jewish refugee family fleeing persecution and a young man seeking to reclaim a shattered past. In the twilight of the Cold War (the late 1980s), nine-year old Lev Golinkin and his family cross the Soviet border with only ten suitcases, $600, and the vague promise of help awaiting in Vienna. Years later, Lev, now an American adult, sets out to retrace his family's long trek, locate the strangers who fought for his freedom, and in the process, gain a future by understanding his past.
Lev Golinkin's memoir is the vivid, darkly comic, and poignant story of a young boy in the confusing and often chilling final decade of the Soviet Union. It's also the story of Lev Golinkin, the American man who finally confronts his buried past by returning to Austria and Eastern Europe to track down the strangers who made his escape possible . . . and say thank you. Written with biting, acerbic wit and emotional honesty in the vein of Gary Shteyngart, Jonathan Safran Foer, and David Bezmozgis, Golinkin's search for personal identity set against the relentless currents of history is more than a memoir—it's a portrait of a lost era. This is a thrilling tale of escape and survival, a deeply personal look at the life of a Jewish child caught in the last gasp of the Soviet Union, and a provocative investigation into the power of hatred and the search for belonging. 
The meeting will be over Zoom. If you have not attended in the past 2 months and would like an invitation, please contact the office. Current participants will automatically receive an invite.
---
To become involved in Hadassah at Temple Judah,
contact one of the officers below:
Hadassah Officers



President
Becky Bunting
Secretary
Nancy Margulis
Treasurer
Becky Bunting
HMO Chair
Suisan Goldberg
Youth Aliyah Chair
Amy Heeren
Health & Wellness Chair
Suisan Goldberg
Book Group Chair
Nancy Margulis
Save
Save
Save
Save
Save
Save
Save
Save
Save
Save
Save
Save
Save
Save